Every once in a while, I like to treat myself to vintage patterns from Etsy. I bought a couple from SewUniqueClassique a few months ago, but as is usually the case when I buy vintage patterns, I don't have something specific in mind to make. I'm always tempted by the envelope illustrations, but I try to look past them for something I might actually make or wear, and for something that's a bit more unique than the standard darted bodice with a gathered rectangle skirt.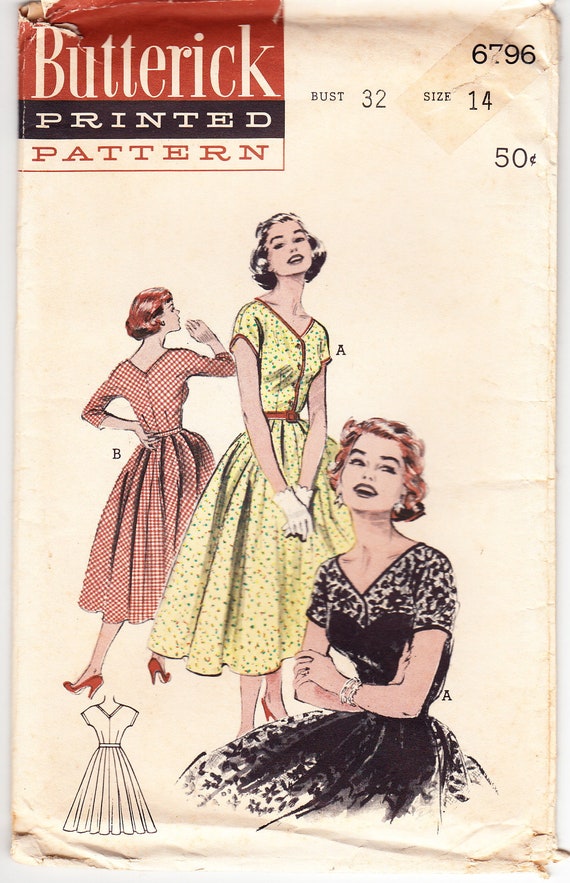 Butterick 6796 is one of those patterns. It looks relatively simple, but I loved the charming, vintage vibe it has. (I was also really pulled in by that lace version. One day.) Also, any vintage pattern I find needs to have a neckline I'm comfortable with (or seems easily adjustable), and sleeves that cover the upper arms. This pattern fit the bill.
When I was at Fancy Tiger Crafts in Denver, Colorado, I picked up the last of an incredible charming Japanese cotton lawn with little houses on it. Thinking of many vintage dresses with novelty patterns, I thought the cotton lawn would be a perfect match. The pattern is cut on the bias, and I thought the horizontal print would emphasize the bias cut nicely.
When you're sewing a vintage pattern a muslin is pretty important – especially since my Japanese fabric was expensive, and, thanks to yours truly, sold out. I bounced back and forth between two muslins. I tried the pattern with no adjustments other than making the waist a bit bigger – even though the pattern is a size 32 (in vintage patterns, a 34 usually works perfectly for me), as when I measured the pattern piece, there seemed to be plenty of ease. So I kept the bust as-is. I raised the neckline just a bit and added a fifth button. The original pattern had a huge pleated circle skirt, and since I didn't have loads of fabric for that, I decided to sew together a few a-line skirt pieces and gather them.
As is pretty standard with vintage patterns, the bust dart was high and pointy. When I tried lowering it, it just lowered the pointiness (not a charming look). So I decided to try using my Butterick 6318 (a vintage repro that I've made before), and I had the same issue, plus it was much less fitted than the original. I realized that perhaps since the fabric was cut on the bias, the dart was just coming out more pointy. I went back to the original muslin, lowered the dart, and decided to work out a solution on the real deal.
To try and "soften" the dart, I underlined the bodice with a white silk/cotton blend fabric, and then stitched the bust darts by hand. I figured the machine was stretching out the already-stretchy bias fabric, and was making the darts pointier. It was a nice little "slow sewing" project. I also used basting stitches to mark in all the other darts (two back darts, and three by each elbow – a vintage touch I really love).
I liked working on this dress because the construction was a bit different than I'm used to (which is why I usually like vintage patterns). The v-neckline is self-faced, and it all came together very neatly. It was supposed to have a side zipper, but I really hate side zippers, so I put a 14-inch zipper in the center back (I didn't want a zipper at the top of the back ruining that lovely V shape). I sewed binding onto the sleeve hems before folding them in and hemmed them by hand. The sleeves are kimono sleeves, so I also like to stitch a small piece of seam binding along the curve for extra reinforcement. I also stitched binding along the waist seam as a sort of waist stay.
The short-sleeve version of the pattern is supposed to have bias-bound edges (around the neck and button placket edges), and I specifically hunted down some mango-coloured Robert Kaufman cotton lawn for the purpose. It was supposed to bring out the pink-y coloured houses in the fabric print, but when I sewed it on I realized it was a touch too orange. I tore it out and topstitched according to the long-sleeve version's instructions instead.
I really didn't feel like setting up my sewing machine for the buttonholes, so I followed the instructions that came with the pattern and sewed all five by hand (yes, my laziness has no logic). I flipped back and forth about which buttons to use (I've never sewn buttons on one of my own garments. Fun fact: I had a phobia of buttons when I was 5. I cried when I learned my school uniform would have buttons). I wanted to cover my own buttons, but I couldn't find the right size button kit online, and when I tried a (non-matching) fabric-covered button from my stash, I really struggled to get it through the buttonhole. I had some vintage buttons from a Fibre Share package, and those worked perfectly.
Like many vintage dresses I've sewn, this dress is tough to get on and off (I have very prominent shoulder blades and it makes it hard to get the dress past my shoulders). Wearing it makes me feel very 50s house-wifey (especially if I have my crinoline on), but the fabric isn't too retro-looking for real life and it makes a pretty spiffy semi-casual-dressy dress (does that make sense? No?). I'm not sure the skirt I made up really works for it – a plain ol' gathered rectangle would probably work better. I do have some real vintage fabric that I think would be perfect for the dress – so I would like to make it again. It's a light, yellow floral fabric, so it'll have to wait for the spring. Oh, and I'll have to make that lace version too…